CDC: Do Not Eat Romaine Lettuce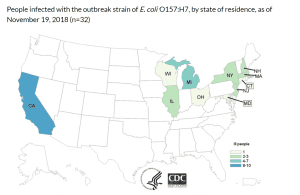 E. coli map related to romaine lettuce

View Photos
Sonora, CA — Due to E. coli concerns, the US Centers For Disease Control and prevention is calling for all US consumers to refrain from eating any romaine lettuce that is in the refrigerator.
The CDC reports that 33 people have been infected across 11 states. 13 of those people have been hospitalized. The highest number of the cases have been in California.
The US Food and Drug Administration also recommends throwing away all romaine lettuce, until further notice, even if you earlier ate some and did not get sick. The FDA has not been able to tie the outbreak to a specific grower at this time, but is very confident it is related to romaine lettuce. Most of the lettuce being harvested and going to supermarkets right now originates from either California or Mexico. It is noted that the E. coli gets inside the lettuce, so washing it is essentially no help in preventing someone from getting sick.