Sonora Council Seeks More Time And Options Related To TCEDA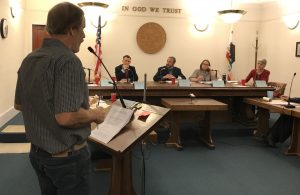 Ken Perkins Speaks To Sonora City Council

View Photos
Sonora, CA — The Sonora City Council will continue discussion about potentially leaving the Tuolumne County Economic Development Authority at its meeting on December 3rd.
This evening the council gave consensus that it would like staff to come up with an initial list of alternatives to continuing the economic development joint powers agreement with the county. In addition, the city plans to ask the county to reduce the period of time required to give notice for exiting the TCEDA. The JPA agreement calls for 180 days notice before the new budget starts on July 1st, but it was noted tonight that financial and management audits being conducted following the recent Grand Jury report may not be completed before then. The city plans to request the Tuolumne County Board of Supervisors reduce it to either 90 or 120 days.
Three members of the public spoke at tonight's meeting. Ken Perkins, who filed a transparency lawsuit against the TCEDA, argued that no additional information should be necessary following the Grand Jury Report and urged the council to move toward exiting the TCEDA. Next, former council member George Segarini praised the benefits of staying in the JPA, and took offense to the argument that the Grand Jury report was "bad." He stated that procedural changes should and would be made. The final speaker was Diana Cooper, an instructor at Columbia College, who stated that the financial cost of being in the TCEDA has not brought relative economic benefits.
The council consensus to seek alternatives, and additional time, was unanimous, 5-0. A majority of council members indicated that if the county declines the request to reduce the required time, it would increase the likelihood of the city leaving the TCEDA. The JPA has been in place since September of 2008. The city currently funds about $103,000 and the county covers $345,000.