Turkey Drive Helps Deliver Holiday Abundance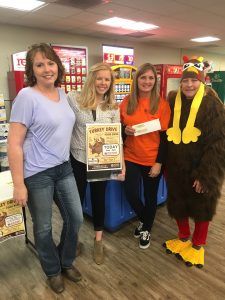 L to R Monica Fox, Chicken Ranch Rancheria Tribal Administrator; Heidi Diestel, Diestel Family Turkey Ranch; Deni Avery, ATCAA Food Bank Director; Ms. Turkey at Thanksgiving Basket Food Drive Nov 2018

View Photos
Sonora, CA — Thanks to some very generous support, over 2,000 families who may have otherwise gone without have their own Thanksgiving turkey to cook this week.
Amador Tuolumne Community Action Agency (ATCAA) reports due to corporate and community support, its Thanksgiving holiday basket food drive was able to provide a cornucopia of holiday dinner fixings, including a turkey for each family.
Last Saturday's second annual Turkey Drive, according to ATCAA Food Bank Director Deni Avery, brought an abundance of assistance. Held at the Sonora Save Mart Supermarket in the Timberhills Shopping Center, local businesses taking part included Diestel Family Turkey Ranch, once again providing the first 100 turkeys; also matching donations for cash or turkey donations.
At match time, the Chicken Ranch Rancheria Band of Mi-Wuk Indians presented a check for $9,000, Avery adds, which with Diestel's match, toppled the Food Bank's goal. Other business and individuals contributing online and in person brought the total number of turkeys to over 2,000.
While Gratitude Abounds, More Giving Opps Ahead
"We can't thank our community enough," says Avery. "This is the second year we wanted to include a turkey with the holiday baskets…and the community answered. We are grateful for the support and grateful to Save Mart for allowing us again to host the drive inside their store."
For more than two decades the food bank has been providing holiday baskets to those in need, distributing both before Thanksgiving and before Christmas. However, until last year, the baskets did not include a turkey.
Looking ahead to its December holiday basket giveaway, ATCAA is still accepting donations and in need of volunteers who would like to help during one or both of the upcoming distributions. Avery says all ages are welcome and families and groups are also encouraged. She is also working with area schools that are conducting their own food drives.
To learn more about how you or your group or family can help, visit the ATCAA website by clicking here and accessing the Food Bank or Events landing pages.