Tuolumne County Supervisors To Discuss Park Grant Application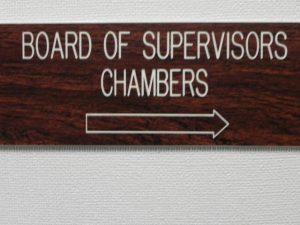 Tuolumne County Board of Supervisors Sign

View Photos
Sonora, CA — Tuolumne County leaders are eyeing up to $8-million in potential grant funding available via a park and water bond passed by state voters this past June.
Proposition 68, the "Parks, Environment and Water Bond," gained approval of 57-percent of California voters, and authorizes $4-billion in general obligation bonds for state and local parks, environmental protection projects, water infrastructure and flood protection.
Tuolumne County has access to a 50-acre parcel that was set aside for public benefit as part of the earlier approval of the Peaceful Oaks Estates subdivision owned by Sierra Pacific Industries. The land is situated near the intersection of Tuolumne and Standard roads and directly across from Standard Park. In 2016 the county unsuccessfully applied for $1-million from a Youth Soccer and Recreation Development grant program. If approved, the county was hoping to utilize 10 of the 50 available acres for three additional soccer fields, a basketball court, open space, 68-parking spaces and utilities.
If the county decides to apply for the new Prop 68 funding it would mean entering into an agreement with Siefgreid Landscape Architects to update the master planning that was completed in 2016. There would be community outreach, development of a conceptual master plan, a sketch developed to show the layout of a proposed plan, and a construction cost estimate.
The cost for the initial scope of work for the county, to be ready to submit a grant application ahead of next June, would be around $13,000.
It will be discussed at Tuesday's meeting that starts at 9am.