Sonora Council To Debate Future Of TCEDA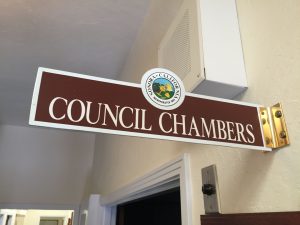 Sonora City Council Chambers

View Photos
Sonora, CA — The Sonora City Council will have a discussion this evening about whether it wishes to remain part of the Tuolumne County Economic Development Authority.
The Council has until the end of December to decide if it wants to continue to be a part of the Joint Powers Authority with Tuolumne County, as if it chooses to exit, the city must give 180 days-notice prior to the start of the fiscal year that starts July 1st. On today's agenda is discussion about whether the city wants to place a vote on potentially exiting the TCEDA at a future meeting.
Today's meeting agenda notes that a recent Grand Jury report, and some community members, have raised recent concerns about things like transparency, oversight, accountability and return on investment. Others, meanwhile, have given very positive correspondence about the economic benefits of the agreement. The city and county established the TCEDA in September of 2008. Its budget is made up of around $103,000 from the City of Sonora and $344,000 from Tuolumne County.  Today's meeting starts at 5pm at Sonora City Hall.