Winter Weather Is Expected For Thanksgiving Weekend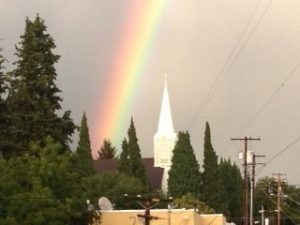 Double Rainbow Downtown Sonora

View Photos
A major change in the weather pattern is coming to Northern California this week, which will impact holiday travel.
A series of winter like storms will plow through the Northern San Joaquin Valley and the Mother Lode later this week, bringing rain and mountain snow to the region.
The first system is set to arrive late Tuesday into Wednesday. Roadways will likely be slick due to previous stretches of drier weather, so motorists should be mindful when traveling, especially Wednesday into Thursday morning.
As rainfall accumulates over the holiday weekend, ponding water will be possible where storm drains have been clogged by leaves and other debris. Debris flows over any of the recent fires will also become a major concern.
Up in the Sierra Nevada, accumulating snow is forecast with travel difficulties likely starting Wednesday afternoon and continuing through Saturday. Gusty winds and accumulating snow will make for treacherous conditions over the mountains with whiteout conditions being possible at the passes Thursday into Friday.
Until then, the Air Quality Alert will continue to remain in effect for Tuolumne and Mariposa counties, due to smoke impacts from surrounding wildfires.
Exposure to particle pollution can cause serious health problems, aggravate lung disease, cause asthma attacks and acute bronchitis and increase the risk of respiratory infections.
Residents are advised to use caution as conditions warrant. People with heart or lung diseases should follow their doctor`s advice for dealing with episodes of unhealthy air quality.
Additionally, older adults and children should avoid prolonged exposure, strenuous activities or heavy exertion, as conditions dictate.