Governor Brown Issues Order to Streamline Wildfire Cleanup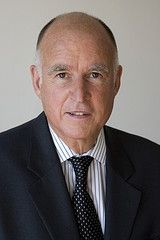 Jerry Brown

View Photos
Governor Jerry Brown surveyed wildfire damage in Butte County and held a briefing at the Incident Command Post in Chico with state, local and federal officials – including U.S. Secretary of the Interior Ryan Zinke.
Brown and Zinke were KVML's "Newsmakers of the Day".
The Governor issued an executive order to cut red tape and help streamline recovery efforts in communities impacted by the devastating wildfires that continue to burn across the state.
"We can't avoid catastrophe but we can prepare for it, we can recover from it – and we will," said Brown. "This community is pulling together – the first responders, firefighters, sheriffs, police and everyone else, including neighbors helping one another. Now is the time for solidarity."
Governor Brown also met with residents impacted by the Camp Fire at the Incident Command Post in Chico and visited the site of Paradise Elementary School, one of over 8,814 structures destroyed in the Camp Fire.
The executive order issued includes provisions that: expedite cleanup and removal of debris from the fires; extend the state's prohibition on price gouging during emergencies; expedite the use of suitable fairgrounds and state properties for temporary sheltering of fire survivors; suspend planning and zoning requirements and state fees for manufactured homes and mobile home parks to help displaced residents with housing needs; streamline regulations to allow hospitals and other health facilities impacted by the fires to remain open; and allow for the accelerated hiring of additional personnel for emergency and recovery operations.
On Monday, Governor Brown announced that the state has secured a Presidential Major Disaster Declaration to bolster the ongoing emergency response and help residents recover from fires burning in Butte, Los Angeles and Ventura counties. On Sunday, the Governor officially requested a major disaster declaration and joined leaders of the Governor's Office of Emergency Services, CAL FIRE, California Highway Patrol and California National Guard to provide an update on firefighting efforts at the State Operations Center in Mather, which has been activated to its highest level and is coordinating with local, state and federal emergency response officials to address emergency management needs.
A state of emergency has been declared in Los Angeles, Ventura and Butte counties due to multiple fires and late last week, California secured direct federal assistance to further support the impacted communities – within 24 hours of making the request. Federal Disaster Unemployment Assistance benefits have also been made available for workers who lost jobs or had work hours substantially reduced as a result of the wildfires in Butte, Los Angeles and Ventura counties.