Name Released In HWY 108 Fatal Crash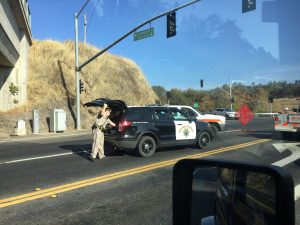 Highway 108 was closed due to fatal crash

View Photos
Sonora, CA – The Sonora Unit of the CHP has identified the driver that died in a car versus semi wreck on the Highway 108 that shut down the roadway Wednesday.
The deceased is Jacleen Adele Morganelli. She was 34-years old and a resident of Sonora. The head-on crash happened just after 7 a.m. west of the Stockton Road intersection. As earlier reported here, the CHP relayed that Morganelli, driving a compact car eastbound, went off the shoulder and made a U-turn right in front of a loaded logging truck directly behind her driven by 25-year-old Tyler Hughes of Wallace. He was not injured. Morganelli was pronounced dead at the scene.
Traffic was backed up in both directions on the highway. CHP officers set up detours along the highway at the intersections of Stockton Road along with South Washington Street and Lime Kiln Road. Those lasted for about 20 minutes while officers investigated the crash scene and then a tow crew removed the wreckage from the roadway. It remains unknown why Morganelli made the U-turn, according to the CHP.