Tuolumne County Chamber Of Commerce Honors Community Leaders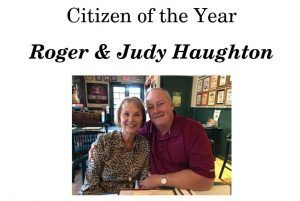 Roger and Judy Haughton

View Photos
Tuolumne, CA — At its annual awards banquet, the Tuolumne County Chamber of Commerce recognized local leaders in business, government and education.
The sold out event was held Thursday evening at the Black Oak Casino Resort.
The prestigious Citizen of the Year designation went to Roger and Judy Haughton. The Haughton's first purchased a cabin in Twain Harte in 1994 and relocated permanently to the county in 2008. Among the various organizations they have supported include Habitat for Humanity, Sierra Repertory Theatre, Stage Three, Hospice, Call to Inspire and the Park Foundation. They list their greatest accomplishments as raising four loving, happy, and successful children, who are great parents in their own right, in addition to helping the local organizations in the community.
The Entrepreneurs of the Year are John and Brandi Ogle who have owned Mountain Oasis Purified Water since 2006. The business has notably expanded in recent years as they have more than quadrupled their product output and added two more large trucks to their fleet.
The Business of the Year is Dodge Ridge Ski Resort owned by Frank and Sally Helm. When the Donnell Fire broke out over the summer they put their business and lives on hold to house and feed the firefighters who were working the fire. The business has also long helped generate tourism dollars and local jobs.
The Excellence in Government award went to Duke York, a deputy director of the Public Works Department. He has lived in Tuolumne County for 50 years and he and his wife Debbie have been married for 36 years. They have raised five children and have four grandchildren. Throughout his career he has made customer service a high priority and takes extra time to respond to questions from community members. He also even meets people at their homes so they could point out issues like drainage problems or poor sight distance at intersections.
The Non-Profit of the Year was given to Habitat for Humanity of Tuolumne County. The active organization has helped create new homes for local residents via its Parrotts Ferry Village.
The Teacher of the Year was awarded to Sheri Gempler of Don Pedro High School. She has spent her entire teaching career in the Big Oak Flat Unified School District and has taught at all three of the schools. She is a wife of 25 years and has three children who were educated in Tuolumne County. She is also the adviser for the SADD (Students Against Destructive Decisions) group. Her efforts with this group have earned them an invitation to witness legislative action at the state capitol as well as an all-expense paid trip to the SADD conference in Washington D.C.
Also, the students of the year awards were given to Shiloh Lloyd – Connections Visual & Performing Arts Academy, Joshua Follmer – Tioga High School, Kai Ayers – Don Pedro High School and Trent Tanko – Sonora High School.