Over 10,000 Structures Destroyed By Camp Fire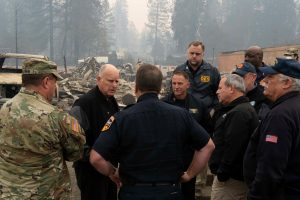 Governor Jerry Brown surveys damage of deadly Camp Fire disaster in Paradise, Calif., Nov 14 2018

View Photos
Paradise, CA — The damage tally continues to increase for the most destructive wildfire in the state's history.
The Camp Fire in Butte County has now destroyed 8,756 homes, 1,310 outbuildings and 260 commercial buildings. 56 people are now confirmed dead and many more remain unaccounted for. The fire is now 140,000 acres and 40-percent contained. While touring the fire area yesterday, Interior Secretary Ryan Zinke stated, "This is my fourth trip to California, and unfortunately every trip has had forest fires. Each trip I say 'this is the worst fire I have seen,' and now we're here today, and I'll say 'this is the worst fire that I have seen.'"
Governor Jerry Brown escorted Zinke on the trip, and stated, "I've issued an executive order that will speed up recovery and cut red tape. It will overcome some regulations and other kinds of laws that get in our way. It looks like a war zone, and it is. It is the devastation that only fires of this kind can bring about."
Following Zinke's trip, this morning President Donald Trump tweeted, "Just spoke to Governor Jerry Brown to let him know that we are with him, and the people of California, all the way!"
There are now 5,473 firefighters assigned to the incident, 105 air tankers and 75 helicopters.