Local Author Introduces Book: Forgotten Flowers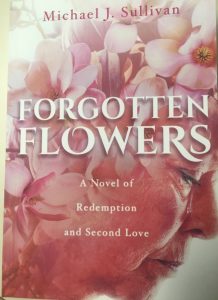 Forgotten Flowers

View Photos
"Forgotten Flowers" is an emotional saga of people we should not forget even as they forget us.
Tuolumne County book author Michael J. Sullivan was Thursday's KVML "Newsmaker of the Day".
The novel is a story (actually, several stories that all weave together) that deals with emotionally difficult topic of dementia.
The story is about a man named Daniel Kilgore, who volunteers with three residents at Magnolia Gardens, which is an assisted living facility in Charleston, South Carolina. The ravages of dementia have left precious little of the minds of Sandra Cotton, Mary Hillman, and Delores Samuel, who were once vibrant and alive. Kilgore hopes that the time he spends with the ladies, will help him deal with his own private hell at home.
According to Sullivan, Forgotten Flowers focuses on people that we should never forget, even as they forget us day after day.
Sullivan suggests that families can use Magnolia Gardens, as described in the novel, as a model while searching for the best assisted living facility for people they love. The graying of America is an on-going critical issue that is illuminated by the lives described in this moving novel.
Donations from the sale of this novel will be given to Bright Focus Foundation, a nonprofit that supports research and education on brain and eye diseases such as Alzheimer's and macular degeneration.
"Forgotten Flowers" is available now at nearly all of the local book stores.
Additionally, there will be a meet-the-author and book signing event, inside of the Hotel at Black Oak Casino Resort, on Monday December 3rd from 9 AM to noon. The book will be available for purchase.
Sullivan is currently forming a project celled "Foster Grandchildren" where he is partnering the youth group at Sierra Bible Church with clients at Skyline.
"Its a great way to serve those we should not forget even as they forget us," said Sullivan. "That is the message I want the public to hear."
The "Newsmaker of the Day" is heard every weekday morning at 6:45, 7:45 and 8:45 on AM 1450 and FM 102.7 KVML.