Sonora High Football Playoff Game Postponed Due To Camp Fire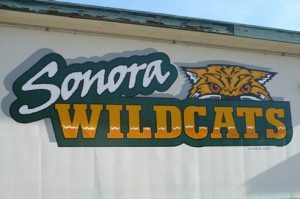 Sonora High School

View Photos
Sonora, CA —  Concerns regarding smoke from the Camp Fire is blocking Sonora Highs playoff game in Colfax this Friday night — and in turn delaying all playoff games by a week.
California Interscholastic Federation (CIF) officials relay that giving all the teams a week off is the only way to make it fair. Sonora's postponed matchup is due to poor air quality stemming from the blaze burning in nearby Butte County. Sonora High School Assistant Principal and Athletic Director Karen Sells tells Clarke Broadcasting she is in favor of the change, "There is always decisions that area going to be made that are not good for individual people or individual teams, but in this case the CIF section definitely made a very thoughtful and diligent decision with the number one priority being the health and safety of all of the athletes. I think that is very important."
The Sac Joaquin Section Division Five playoff game against Colfax has been pushed to next Friday, November 23rd at 7 p.m. in Colfax. Meaning it will take place during the Thanksgiving Holiday weekend. Regarding whether that creates any hardships for Sonora, Sells responded, "It is also the day of the Sonora Christmas Parade, which our cheerleaders were planning on participating in the parade. Now they will be going to the playoff game instead. Also, it's always easier to play a game on a school day than it is during a holiday but for the most part it will not require any additional things other than it being pushed back a week."
If the Wildcats win, the teams' next game will be the Sac Joaquin Division Five Section Championship at Lincoln High School in Stockton on Saturday Dec. 1st. The time is yet to be determined.