Threatening Arnold, Sheep Ranch Incidents Result In Felony Arrests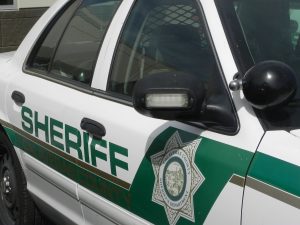 Calaveras County Sheriff

View Photos
San Andreas, CA — An incident described as involving alcohol, criminal conspiracy and firing of a shotgun landed one recent arrestee in jail on a $235,000 bond.
According to Calaveras County Sheriff's spokesperson Sgt. Rachelle Whiting, the early-hours incident centered in the 2000 block of Flamingo Way in Arnold as deputies responded to a residence for a report of shots fired.
She recounts that The 20-year-old male reporting party told deputies that he went outside to check on a vehicle that repeatedly drove past his home, occupied with people with whom he was familiar.
Suspects Allegedly Brandish Bat, Shotgun
When the resident attempted to make contact with those in the vehicle, he said the female passenger, later identified as 18-year-old Alexcia Roraback of Arnold, exited yelling with a baseball bat in her hands. He said then a male subject, later identified as 20-year-old Harley Davidson, also of Arnold, slid out of the driver's seat — holding a shotgun and shouting — and fired two shots. The victim at that point said he ran back into his residence to call 911 as the vehicle took off.
Whiting states that arriving deputies noticed a vehicle driving back in to the area that matched the description of the suspects, performed a vehicle stop and arrested Davidson and Roraback. They also recovered a shotgun, baseball bat, and some alcohol from the vehicle.
Both were booked into the Calaveras County Jail. Davidson faces charges of criminal conspiracy; brandishing a weapon; negligent discharge of a firearm; carrying a loaded firearm and drunk driving. He was assigned a $235,000 bail. Roraback was booked for brandishing a weapon, criminal conspiracy and given a $20,500 bail.
Sheep Ranch Arrestee Receives $130,000 Bail
Whiting additionally reports that deputies responded Sunday evening to a residence in the 11000 block of El Dorado Street in Sheep Ranch for a report that a male subject was threatening to harm people in the residence.
Arriving deputies took statements from subjects on scene, who reported that Jeremy Raymond, 36, was inside the home. Attempting to speak with him, Whiting says they were reportedly met with verbal confrontation and threats.
She adds that while attempting to leave the scene, Raymond lunged at one of the deputies before being taken into custody. She additionally reports that he actively resisted arrest, attempting to spit at the deputies while continuing to make numerous threats against them.
Booked in to the Calaveras County Jail, Raymond was charged with criminal threats, resisting arrest, battery on and threatening a peace officer, and received a $130,000 bond.