Brown, Feds, Fire Heads Converge To Streamline Wildfire Response Efforts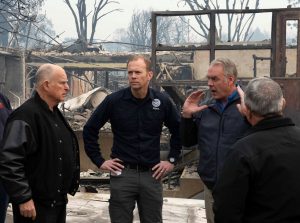 Governor Jerry Brown meets with FEMA Administrator Brock Long, Secretary Ryan Zinke and Governor's Office of Emergency Services Director Mark Ghilarducci over Camp Fire Nov 14 2018

View Photos
Chico, CA — California's governor issued an executive order to "cut red tape and help streamline recovery efforts" as he met with federal and state officials near the Camp Fire.
As that wildfire and other devastating fires continue to burn and affect communities across the state, Governor Jerry Brown gave the order while holding a briefing at the Incident Command Post in Chico. Among the attendees were U.S. Secretary of the Interior Ryan Zinke, FEMA Administrator Brock Long and top state fire and emergency management officials.
Brown noted, "We can't avoid catastrophe but we can prepare for it, we can recover from it – and we will. This community is pulling together – the first responders, firefighters, sheriffs, police and everyone else, including neighbors helping one another. Now is the time for solidarity." While surveying wildfire damages impacting Butte County, Brown visited the site of Paradise Elementary School — one of over 8,814 destroyed structures — and also met with fire-impacted residents. (View photos in the image box slideshow.)
What Brown's Executive Order Mandates 
Brown's latest order includes provisions that expedite cleanup and removal of debris from the fires and the use of suitable fairgrounds and state properties for temporary sheltering of fire survivors. It also suspends planning and zoning requirements and state fees for manufactured homes and mobile home parks to help displaced residents with housing needs.
The order additionally extends the state's prohibition on price gouging during emergencies; streamlines regulations to allow hospitals and other health facilities impacted by the fires to remain open; and allows for the accelerated hiring of additional personnel for emergency and recovery operations.
On Monday, the governor announced that the state was successful in obtaining a Presidential Major Disaster Declaration to bolster emergency response and recovery aid to residents impacted by the fires burning in Butte, Los Angeles and Ventura counties. The previous day, Brown, through a state level disaster declaration, activated emergency management and response to the highest level.