Update: Fatal Crash On Highway 108 In Sonora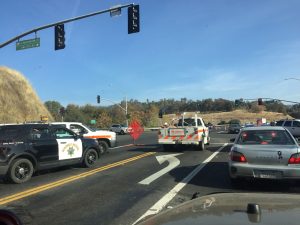 Highway 108 Was Closed Due To Fatal Crash

View Photos
Update at 10:15am: Highway 108 is back open in both directions following a fatal crash, according to CHP Officer Faustino Pulido. No additional details regarding the crash have been released to the point, but we will pass along more information as it comes into the news center. The big rig versus a sedan incident occurred on Highway 108 near Golf Links Road and traffic has been backed up in both directions since the seven o'clock hour.
Update at 7:57am: CHP Officer Faustino Pulido says that Campo Seco Road is now another alternate route for traffic on Highway 108. Stockton Street remains the other alternate route away from the crash scene. He adds that anyone heading south on Stockton Street will be diverted onto Campo Seco Road. Highway 108 will remain closed for an extended period.
Update at 7:50am: CHP Officer Faustino reports that a crash on Highway 108, between Stockton Street and Golf Links Road, has resulted in a fatality. A logging truck and sedan collided, and the driver of the sedan has been pronounced dead. Highway 108 will be closed for an extended period. East and west traffic is currently being diverted to Stockton Street.
 Original story posted at 7:30am: Sonora, CA — The CHP reports that a semi-truck and a sedan have collided on Highway 108 near Stockton Street in Sonora.
An ambulance is responding to the scene. The crash is blocking the eastbound lane of Highway 108 so vehicles headed that direction are being diverted to Stockton Street. Be prepared for a traffic delay and heavy congestion in the area. You may want to avoid the area if possible.