Calaveras County Reaches Multi Millions Butte Fire Claim Settlement With PG&E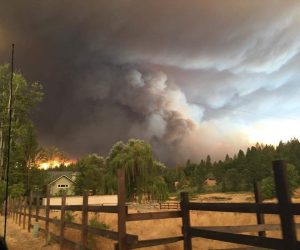 2015 Butte Fire Visible From Glencoe

View Photos
San Andreas, CA — More than three years after the sparking of the deadly 70,868-acre Butte wildfire disaster in Calaveras County, county officials announce they and PG&E have agreed to settle under a multi-million-dollar mediator's proposal.
Calaveras County Administrator Tum Lutz released basic terms of the $25,400,000 settlement accepted by the board of supervisors for all Butte Fire related county claims and liabilities relating to the public power utility.
PG&E cooperated with CAL Fire investigators, who officially determined the company was liable for igniting the wildfire when a tree made contact with a power line located in the Electra area of Amador County on Sept. 9, 2015, shortly after which it jumped the county line. Two residents perished in the fire, which also destroyed 475 residences and damaged hundreds of other structures. For a timeline summary of the incident, click here.
County officials state that the confidential settlement covers millions in lost revenues and resources lost by the county as a result of the fire. They further state that the agreement, which took three mediations, involved more than two and a half years of information exchange, analysis and litigation. County Counsel Megan Stedtfeld, Deputy County Counsel Greg Wayland advised the board along with the national law firm of Baron & Budd, known for representing public entities in complex litigation.
Following the finalization of the settlement agreement for signature, officials say that the funds are expected to be paid before the end of the calendar year.