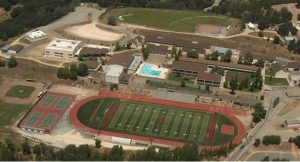 Calaveras High School

View Photos
San Andreas, CA – Calaveras County Sheriff's Deputies remain at the Calaveras High School campus investigating an outburst by a student that led to a lockdown.
Deputies responded to the school, located at 350 High School Street in San Andreas around 12:51 p.m., for a report of an "out of control juvenile being aggressive on campus," according to sheriff's officials. They add that the student was also reported to "possibly have a knife."
As a precautionary measure, school administrators ordered that the campus be place on lockdown before deputies arrived. Deputies questioned juvenile, who was not found to have any knives or other weapons on their person, relay sheriff's officials, who add that there is "no ongoing threat to students or staff."
No details as to what caused the student to become aggressive have been released. It is unclear if the juvenile was taken into custody. As the student is under the age of 18, their name is not being released by the sheriff's office.