Variety Of Topics On TUD's Agenda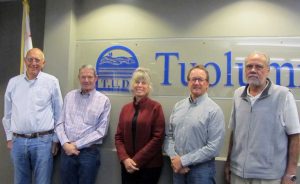 TUD Board - Jim Grinnell, Bob Rucker, Barbara Balen, Ron Kopf and Ron Ringen

View Photos
Sonora, CA — The Tuolumne Utilities District Board of Directors will vote on hiring a firm to design a new water treatment facility, and on extending the contract with the current interim GM Dave Andres.
At Tuesday's meeting the board will decide whether to approve a roughly $100,000 contract with Carollo Engineers to complete the preliminary design of the proposed Sierra Pines Regional Water Treatment Facility.  The district purchased the Sierra Pines property in 2007 with the plan to eventually construct a facility. By hiring an engineering firm the board of directors hopes to elevate the project's readiness to hopefully apply for and receive grant funding.
The board will also vote on extending the contract of Interim General Manager Dave Andres through as late as June 30, at a cost not to exceed $25,000. New General Manager Edwin Pattison will step in on November 26, and board members have expressed a desire to retain Andres during Pattison's initial months to ensure a smooth transition.
Tuesday's TUD meeting will start at 2pm in the board meeting room at 18885 Nugget Blvd in Sonora.
Then coming up on Thursday the board has called a special meeting to solely discuss the issue of potential grant, loan and funding opportunities the district has on the horizon. The special meeting will take place at the same location starting at 2pm.