Tip Leads Sonora Police To Theft Suspect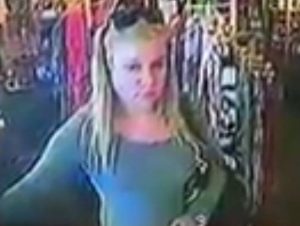 Sonora Police video released of woman wanted for questioning related to alleged Sonora thefts
Sonora, CA — A store's security video put out by Sonora police earlier this week asking for the public's help in targeting a shoplifter that hit two stores in the downtown area paid off.
Police released the footage that can be viewed in the image box on Wednesday showing a close up of the woman, as reported here. A day later, dispatch got a tip from a caller that the woman was in the Candy Vault shop located at 42 South Washington Street.
Once at the store, investigators confronted 20-year-old Brooke Hines of Angels Camp, who confessed to the two earlier thefts, according to SPD Sgt. Tim Wertz. He detailed, "She stole a shirt and some other items. Maybe about a hundred dollars worth. She put them in a bag to get them out of the stores."
Hines was cited for the thefts, but not arrested as there are misdemeanor crimes. It will be up to the Tuolumne County District Attorney's Offices to determine whether to actually press charges against Hines.