Raid On Soulsbyville Home Nets Several Arrests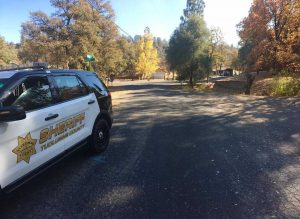 Scene of the Soulsbyville raid and arrests

View Photos
Soulsbyville, CA – A raid on a Soulsbyville home resulted in four arrests and charges ranging from narcotics possession and running a "drug house."
With a search warrant in hand, Tuolumne County Sheriff's Narcotics Detectives, deputies and probation officials entered a home on Sherry Lane in Soulsbyville Tuesday morning. Inside the house they uncovered heroin, methamphetamine, drug paraphernalia and evidence of drug sales, according to Sheriff's spokesperson Sgt. Andrea Benson.
Residents, 33-year-old Robert Degn and 28-year-old Cody Wright, were arrested for maintaining a drug house, possession of a controlled substance, paraphernalia and sales. Degn also had a misdemeanor drug warrant.
Sgt. Benson adds that two others visiting the home, 24-year-old Tori Rowe and 28-year-old Steven Hoch, both of Sonora, were found with drug paraphernalia and taken into custody.  Rowe was also wanted for failing to appear on five misdemeanor warrants for drugs and burglary.
Degn has been arrested on drug charges in the past, as reported here.