Water Districts Host Behind The Taps Tour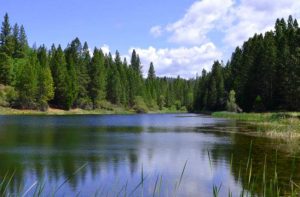 Jeff Davis Reservoir

View Photos
San Andreas, CA – A glimpse of some essential but seldom seen waterworks was the reason for a recent fall trek into the Upper Mokelumne River watershed.
Calaveras Public Utility District (CPUD) General Manager Donna Leatherman shares that the Calaveras Amador Mokelumne River Authority (CAMRA) sponsored the tour for government and water officials, who spent a day touring the innards of the CPUD and Calaveras County Water District (CCWD) water supply systems that serve two of the more rural communities in Calaveras County: West Point and Wilseyville.
The takeaway, she says, is that providing water services in rural areas much easier said than done. "For very small agencies that we are…it is a very big territory that we cover…and I think, seeing all the things that we have to do and keep up with that you can see that…water just doesn't come that easy." While CPUD and CCWD have and actively tap into lots of resources, she emphasizes, based on treatment and distribution needs, local public support is key to continuing to successfully deliver services.
A Little Upriver History
CPUD, formed in 1934 to serve Mokelumne Hill and San Andreas, serves about 2,000 customers in those communities as well as Paloma, Glencoe and Rail Road Flat. Among its facilities is the Jeff Davis reservoir and water treatment station, Schaads reservoir, and McCarty reservoir, a Calaveras River tributary.
The Jeff Davis reservoir, CPUD's surface water source, served from the Mokelumne River South Ford pump station. Shaads, near Wilseyville, is a pre-1914 water rights storage basin, and used for hydropower generation and a supply supplement to CCWD's West Point/Wilseyville system.
CAMRA, a regional group of local government agencies and water entities that includes CPUD, CCWD, Amador Water Agency, and Jackson Valley Irrigation District, formed decades ago to help back a PG&E project in the Electra area. It presently enables the members to collaborate in different ways such as reviewing proposed legislation.
"Hot issues now are state water Delta Bay issues, settlements of water agreements on the rivers, Governor [Jerry] Brown's 'conservation as a way of life' and other mandates — and pending regulations low-income subsidized rates for utility districts, something that has never been done," Leatherman shares.
Surface Water Sources, Infrastructure
CCWD, which formed as a special district in 1946 for the purpose of water rights acquisition and supplies planning, now provides water to a countywide total about 13,000 customers and wastewater services to about 5,000. West Point, its first improvement district, provides water to about 565 customers in West Point, Wilseyville and Bummerville and may in the future use Mokelumne River water to service agricultural customers in western Calaveras County. CCWD facilities in the area include a main water-regulating reservoir in West Point that serves that community as well as a water treatment plant.
Tour participants saw a portion of the old ditch system that received water from Shaads reservoir prior to the 1970s building of the Jeff Davis reservoir in Rail Road Flat. Jeff Davis is the surface water reservoir that provides drinking water for towns of San Andreas, Mokelumne Hill, parts of Rail Road Flat and Glencoe. They also viewed CPUD's recently installed hypochlorite generation system and the pump station at the South and Licken forks of the river.
Leatherman notes that both districts' infrastructure keep personnel busy and that attending to the parts that are located in this area have employees constantly traveling on and around the Highway 26 corridor. Besides getting a rare behind the scenes look at some key water resources, glimpses of still-evident marks of the 2015 Butte Fire and local tree mortality, many on tour also got the opportunity to appreciate a beautiful fall day and picnic lunch in an area certainly away from their usual local travels.
To view visuals of the abovementioned somewhat off the beaten path resources, click into the image box slideshow.