CAL Fire Warning Fire Conditions Serious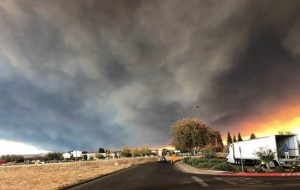 Fire in Butte County

View Photos
Sonora, CA – CAL Fire Tuolumne-Calaveras Unit (TCU) officials are cautioning Mother Lode residents to be mindful of the high fire danger this weekend with windy and dry conditions.
As reported here, there is a Red Flag Warning and Wind Advisory for the Mother Lode and the Stanislaus National Forest until Friday morning at seven. Calling it a "bad combination" of breezy weather, dry fuels, low humidity, fire officials relay that the fire conditions are serious and ask residents to be cautious with any possible ignition source. Citing a fire that broke out yesterday in Copperopolis that scorched nearly a quarter acre of grass before firefighters were able to contain it, Spokesperson Emily Kilgore shares it was ignited by someone using a welder.  She encourages, "If you're going to be using outdoor equipment, we want to make sure that you have a spark arrestor, that you have proper fire tools and water." Kilgore adds. "Debris burning is still suspended, so don't light any piles either."
Additionally, the "Camp Fire" broke out in Butte County this morning. CAL Fire officials note that the winds and dry conditions are fueling the flames that by 3 p.m. had exploded to 18,000 acres and in turn forced evacuations and road closures. For those heading outdoors this weekend, Kilgore cautions, "If you're going to be having a campfire, you need to make sure to put it completely out with at least five gallons of water. Use a shovel to stir it and feel for heat. If you can feel any heat, continue that process until it's dead out." Also, she adds that travelers need to make sure that no chains are hanging on the ground from the vehicle that could spark a fire.
For those planning to get in a little target practice, Kilgore advises, "Make sure you're using a soft back drop and have fire tools available." Those tools include a hose or bucket of water or an extinguisher.