Update: Widespread Power Outage In Groveland Area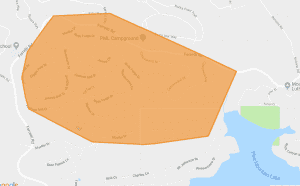 Groveland Area Power Outage

View Photos
Update at 1 p.m.: PG&E reports the power has been restored to the 671 customers in the Groveland area. No cause was posted by the utility.
Original post at 11:15 a.m.: Groveland, CA — There is a power outage in the Groveland region impacting 671 PG&E customers.
The company reports that it started at 9:15am and the hope is to have everyone fully restored at 12:45pm. The cause of the outage is under investigation. Areas impacted include parts of Ferretti Road, Mueller Drive, Digger Pine Street, Jacksonville Drive, Cottonwood Street, Wells Fargo Drive and the Pine Mountain Lake Campground. We'll pass along more information as it becomes available.