Update: Campbell's Lead Over Hanvelt Expands In District Two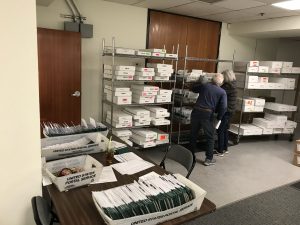 Processing ballots in Tuolumne County

View Photos
Update at 6 p.m.: Tuolumne County election officials have released a new round of numbers.
In the tight District Two Supervisor race, challenger Ryan Campbell has expanded his lead against incumbent Randy Hanvelt by 74 votes. County Clerk and Auditor Controller Debi Bautista notes, "There isn't a large quantity [of ballots] for this to switch. I mean it's not a thousand. We're talking about probably the possibility of somewhere between 300 and 400 votes (for District Two). The tide would have to switch and the majority of them would have to be Randy Hanvelt's."
Bautista notes that the race is still too close to call. She adds that still left to process in the county are 941 provisional ballots, 205 conditional (registered on Election Day, 500 hundred duplicates (meaning the voter tried to switch their vote on the ballot), and 1,700 vote-by-mail ballots. However, the latter could increase as more could come in Friday; the last day vote-by-mail ballots are accepted with a post mark stamped from Tuesday, Election Day.
Click here for the most updated results.
Original post at 10:32 p.m.: Sonora, CA — With a supervisor race hanging in the balance, Tuolumne County Clerk and Auditor Controller Debi Bautista has an update on the efforts to tabulate the remaining vote-by-mail and provisional ballots.
At the close of Election Night, Tuolumne County still had over 4,000 vote-by-mail ballots to process, 950 provisional ballots and around 100 conditional ballots (people who registered to vote on Election Day. Wednesday, an additional 800 ballots arrived at the election's office through the mail.
The closest watched race is District Two Supervisor, where challenger Ryan Campbell leads incumbent Randy Hanvelt by 42 votes. As for the ballots remaining specific to that district, Bautista shares, "We're probably in the 800-1,000 range of ballots that still need to be processed and counted."
Bautista hopes to finalize the processing, and run the ballots through the machine, either later today or early tomorrow. Election staff, volunteers with the League of Woman Voters, and others, were on hand this morning to help with the effort.
Additional ballots that arrive today and tomorrow will also be counted, but Bautista notes that the number typically drops rapidly after the first two days following the election.
Bautista says there was definitely a strong interest in the races this year. She notes, "It was a great turnout. We had about a 70-percent turnout at the polling places and we will probably have about a 71-percent turnout from the people who vote-by-mail. Tuolumne County rocks. People really do want their voice to be heard. I thank everyone that took the time out to vote, and our leaders will be chosen by those people."
We'll pass along the updated election results as soon as the information comes into the news center. Click here for the most updated results.