Ballot Counting Will Continue For Days And Likely Weeks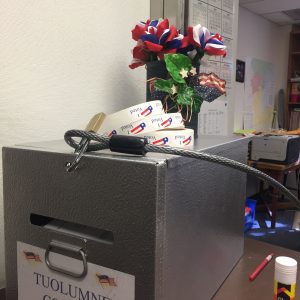 Ballot box

View Photos
Sonora, CA — Election Day is in the past, but many votes still need to be tabulated locally.
Tuolumne County Clerk and Auditor Controller Debi Bautista relays, "There are about 4,000 vote-by-mail ballots that need to be processed, there are roughly 950 provisional ballots, and then there are about 100-ish conditional ballots where voters came and registered on Election Day."
Looking forward, she says, "The biggest chunk, that we'll probably take care of in the next couple of days, will be the vote-by-mail, because those will be the easiest to process. The provisional ballots, and the conditional ballots, will take much more time."
Bautista is closely watching two specific races that she feels are "too close to call." She says, "Definitely District Two Supervisor, where there are only 42 votes between Ryan Campbell and Randy Hanvelt. And then for Jamestown Elementary School, the distance between third and fourth place is only 27 votes. In both of those races there are enough ballots out there that could change those positions."
It is a similar story in Calaveras County. Rebecca Turner, the county's Clerk-Recorder, says, "All polling place results are in and all vote-by-mails received in our office by 5:00 pm (Tuesday) are included in the current results."
However, Turner adds, "There are roughly 4,000 ballots in our office left to count. This includes vote by mail and provisional ballots received at the polling places, over the counter ballots received after 5:00 pm, and conditional ballots received. We are also continuing to count vote-by-mail's received in the mail through Friday, November 9th as long as they were postmarked by Election Day , November 6th. The final results will be certified no earlier than November 20th and no later than December 6th."
Taking a look at other high profile races, for District Three Tuolumne County Supervisor, Anaiah Kirk has a strong 209 vote lead over Laurie Sywester. In the TUD race, the top vote getters are Jeff Kerns and Ron Ringen, and barring a big shift, they will win the seats. In Calaveras County, Merita Callaway and Benjamin Stopper have big leads in their respective supervisor races, as does Rick Dibasillio in the race for Sheriff.
Tom McClintock will be heading back to the US Congress, Frank Bigelow to the Assembly and Republican Andreas Borgeas to the State Senate. Gavin Newsom will be the state's next Governor and Diane Feinstein has retained her US Senate seat. You can find all the local results up in the myMotherLode.com in the Election Section, including special district and school board races in Tuolumne and Calaveras counties.