Supes Hear Latest On Resiliency Center Project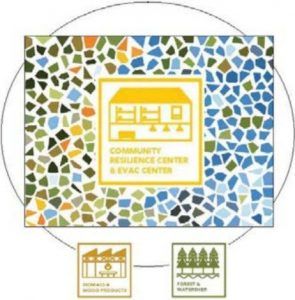 CA-TC NDRC Application Logo

View Photos
Sonora, CA – The Tuolumne County supervisors heard frustration with red tape and administrative requirements echoing through an update of a $70 million pilot program involving the county and multiagency partners.
Tuesday, during a specially slotted 11 a.m. appointment to receive word on developments to date regarding the National Disaster Resiliency Competition Project program won by the county, state and U.S. Forest Service back in 2016, the board heard from Deputy County Administrator Mo Frank and several other key leads.
The three-pillar pilot program is a suite of projects dealing with forest and watershed health as well as planning and building a biomass facility/wood project campus and a community resiliency center.
While all the leads who spoke indicated that various program elements would be going into high gear over the next year to 18 months, nearly all piped up over the tremendous amounts of time required to handle an unwieldy amount of administration, while also navigating the kinks of working with multiple agencies and their sometimes very differing requirements.
Big Decision Due In April
With regard to the community resiliency center, the past ten months of activities have focused on property solicitation and reviews of eight proposals received before two locations, one each on Groveland and Tuolumne were chosen. Environmental work is expected to complete in March.
In the meantime, county staff is continuing to review community input and investigate options for usage and viable support partnerships. Frank noted that the next six months are really critical because a decision is due in April as to whether the county and state decide that one, two or no centers is the best alternative for investing grant monies.
After the hour-long presentation, which also included a rundown of forest and watershed health related projects on lands in progress and on the drawing board and feasibility studies regarding the biomass component, Supervisor Randy Hanvelt expressed his concerns over not seeing what he called "more of a success schedule."
He emphasized, "We cannot afford not to spend this money to the best utilization for the people of Tuolumne County, and if we are going to be successful in setting up a model up here to be duplicated or copied elsewhere, we need to get with the program — and I am anxious to see that."
To view program details and the latest presentation made today, click here.