Update: Close Election Races In The Mother Lode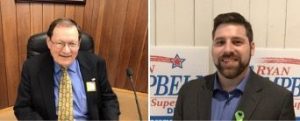 Randy Hanvelt and Ryan Campbell
Update at 11:05pm: All of the precincts and ballots have been counted for the evening in both Tuolumne and Calaveras Counties. In the District Two Tuolumne County Supervisor Race, Ryan Campbell has a 42 vote lead over incumbent Randy Hanvelt. In the District Three Supervisor race, Anaiah Kirk has a 209 vote lead over Laurie Sylwester.
Tuolumne County Clerk and Auditor Controller Debi Bautista reports that well over 4,000 provisional and late arriving vote by mail ballots still need to be tabulated over the coming days, so multiple races are still too close to call.
In the TUD race, Jeff Kerns and Ron Ringen have sizable leads. In Calaveras County, it looks like the two incumbent supervisors could go down in defeat, as Merita Callaway and Benjamin Stopper have big leads. An incumbent who is poised to return for four more years is Sheriff Rick Dibasillio. Find the latest results by clicking here. 
Update at 8pm: The polls closed at eight o'clock this evening across California. Tune in for twice hourly election updates on AM 1450 and FM 102.7 KVML, Star 92.7 and 93.5 KKBN. Click here for the latest election results. Make sure to refresh the page throughout the evening as it will be updated as new information comes into the news center.
Update at 2:30 p.m.: Clarke Broadcasting checked in with Tuolumne County Clerk, Auditor-Controller and Registrar of Voters Debbie Bautista around noon today for an update on voting in the county. She detailed that vote by mail has surpassed the June Primary and adds, "We are very busy. It's been steady, seven or eight people going [voting at a time at the poll station at election office]." To hear more of Bautista's interview click on the video in the image box.
Original post at 9:30 a.m.: Sonora, CA — The polls opened at seven o'clock this morning and voting will continue across California until eight o'clock this evening.
Tune in for twice hourly local election results tonight on AM 1450 and FM 102.7 KVML, Star 92.7 and 93.5 KKBN shortly after the polls close. We will also be posting the latest results in the myMotherLode.com election section as soon as results come into the news center.
Interest in this year's midterm has been very high as Tuolumne County Clerk and Auditor Controller Debi Bautista reported yesterday afternoon that nearly 13,000 vote by mail ballots had already been collected, which is approximately 40-percent of the county's voters. The early turnout is about 3,400 ballots ahead of the last midterm election four years ago.
Tuolumne County has two competitive Board of Supervisor races. In district three, it is newcomer Anaiah Kirk against former supervisor Laurie Sylwester. In district two, it is incumbent Randy Hanvelt being challenged by newcomer Ryan Campbell.
In the Tuolumne Utilities District race, the incumbents Jim Grinnell and Ron Ringen are trying to retain their seats, and the challengers are businessman Jeff Kerns and former board member John Maciel.
The City of Sonora and Tuolumne County have cannabis tax measures on the ballot which would allow local leaders the authority to put a sales tax on the drug up to 15-percent.
In Calaveras County, incumbent District Three Supervisor Michael Oliveira is being challenged by former Supervisor Merita Callaway. It is a rematch from four years ago when Oliveira narrowly defeated Callaway.
In district five, incumbent Clyde Clapp is being challenged by Benjamin Stopper.
In the race for Calaveras County Sheriff, incumbent Rick Dibasilio, who was appointed following the death of Gary Kuntz, is being challenged by Gary Stevens.
There will be a new state Senator for District 8 as incumbent Tom Berryhill is terming out of office. The candidates are Republican Andreas Borgeas and Democrat Carla Neal. In the Assembly District Five race, Democratic Challenger Paulina Miranda is running against incumbent Republican Frank Bigelow.
In the US House District Four race, it is incumbent Republican Tom McClintock against Democrat Jessica Morse.
There are also competitive races for Sonora Union High School District, Curtis Creek Elementary, Soulsbyville Elementary, Tuolumne County Board of Education, Angels Camp City Council, Calaveras Unified School District, CCWD, YCCD and others. Find the complete list of local races by clicking here.