Elections Officials Share Last Minute Voting Information, Tips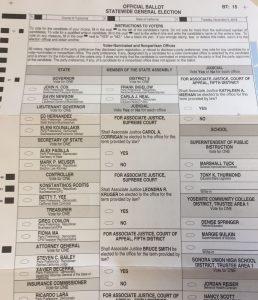 Midterm Election ballot

View Photos
Sonora, CA — For voters who are physically casting midterm elections ballots at local polling places or needing clarification on some basic voting details, here is a heads up.
While most folks might know that these locations will be open from 7 a.m. to 8 p.m., elections officials in both Tuolumne and Calaveras counties are also reminding residents that a few venues have changed since the June primary election.
Tuolumne County Clerk, Auditor-Controller and Registrar of Voters Debi Bautista shares, "We have two changes…Pine Mountain Lake had a conflict and could not accommodate us so the voters who normally vote at Pine Mountain Lake will now be voting at the Groveland Library."
She continues, "[The] same thing happened at Mill Villa — they had a conflict — so the voters who would normally vote at Mill Villa will now be voting at the Sonora Fairgrounds." Bautista notes that voters' ballots should all indicate to voters where to go, but just in case, please take notice.
By Mail Ballots Cast So Far, Calaveras Polling Info
Bautista adds that as of today, Tuolumne County voter turnout is about 3,400 ballots ahead of the last midterm election in November 2014.  Counting today's mail, her office has received 12,992 vote by mail ballots, which represents 49 percent of all who can vote by mail and 40 percent of the county's voters. Generally, poll voters make up about ten percent of those who cast ballots.
Calaveras County Clerk-Recorder and Elections Official Rebecca Turner says her office also has two changes. The first affects Copperopolis residents, who may be long accustomed to voting at Black Creek Park. However, the venue is now Lake Tulloch Bible Church, located across from the IGA behind the Dollar Store.
Turner additionally notes that the Rail Road Flat polling place has also changed at the last minute to Rail Road Flat Community Bible Church, located at 56 Ridge Road. She adds that a ballot drop box is located 24/7 in front of the Government Center in San Andreas (891 Mountain Ranch Road). When you return your ballot to a ballot drop box, no stamp is required but officials must receive your ballot by 8 p.m. Election Day.
Interestingly enough, Calaveras County's by mail returns are somewhat similar. Turner reports that ballots received to date are about 2,700 ahead of last year at roughly 11,000. It accounts for nearly half of those who vote by mail and about 37 percent of those who cast ballots. She estimates that approximately 11 percent of county residents vote at polling places on Election Day.
Some Last Minute Tips
">Early voters must have their ballots postmarked by Tuesday Nov. 6 to have them counted. Statewide, according to the secretary of state's office, 19.7 million people are registered to vote.
The last day to register was Monday, Oct. 22. However, if you moved on or before this date or have not yet registered and want to vote, you can do so on Election Day at the main Elections Office in both counties. (Both are located in their respective government centers at 2 S. Green St., Sonora and 891 Mountain Ranch Rd, San Andreas.) After doing so, you can then cast a conditional ballot that will be counted once it is verified that you have not already voted someplace else.
If you moved after Oct. 22, you can legally vote at either your new or old polling location. If it is your new location, it must be a provisional ballot.
If you vote at the polls but still have a vote-by-mail ballot, you will be asked to "surrender" the vote-by-mail ballot before voting at the polls or must otherwise vote a provisional ballot.
A vote-by-mail ballot must be sealed in an identification envelope and signed in order for it to be returned and counted.
Only voters who have signed the roster and receive a ballot from the polling location are permitted to place a ballot in the ballot counter.
When registering to vote, a person is asked for their driver's license number, identification number, or the last four digits of their social security number. This information is then verified with the DMV or SSA. If the voter did not provide this information or it did not match existing records, before voting the first time in a federal election, a voter must provide identification at the polls.
Tuolumne County Polling Places
— Twain Harte Community Services District, 18775 Manzanita Dr., Twain Harte
— Jamestown Community Hall, 18250 Main St., Jamestown
— Sonora Library, 480 Greenley Rd., Sonora
— Belleview School, 22736 Kewin Mill Rd., Sonora
— St. Susanna Orthodox Church, 10825 Robinwood Ln., Sonora
— Blanchard Fire Station, 2990 Hwy 132, La Grange
— Tuolumne Memorial Hall Kitchen, 18375 Fir Dr., Tuolumne
— Table Mountain Chapel, 19633 Rawhide Rd., Sonora
— M.A.H.A. Community Center and Lending Library, 24411 Sierra Park Rd., Miwuk Village
— Church Of The 49ers, 11155 Jackson St., Columbia
— Creekside Community Church, 13650 Bergel Rd., Sonora
— Mono Vista Fire Station, 16925 Mono Vista Rd., Sonora
— Crystal Falls Clubhouse, 21725 Crystal Falls Dr., Sonora
— Mt. Calvary Lutheran Church, 24176 Pine Lake Dr., Sugar Pine
— St. Matthew's Lutheran Church, 13880 Joshua Way, Sonora
— Crystal Falls Fire Station, Acorn & Phoenix Lake Rds., Sonora
— Mother Lode Fairgrounds, (Manzanita Room), 220 Southgate Dr., Sonora
— Elks Lodge, 100 Elk Dr., Sonora
— Grace Baptist Church, 19765 Grace Way, Sonora
— Ponderosa Hills Fire Station, 20810 Tomira Meadow Dr., Tuolumne
— Groveland Library/Hall, 18990 Hwy 120, Groveland
— Skyline Place, 12877 Sylva Ln., Sonora
Calaveras County Voting Locations
— San Andreas County Library, 1299 Gold Hunter Rd., San Andreas
— Jenny Lind Veterans Memorial Hall, 300 Daphne Street, Valley Springs
— Glory Bound Fellowship, 3061 S Hwy 12, Burson
— Mountain Ranch Community Hall, 8049 Washington St., Mountain Ranch
— Rail Road Flat Community Bible Church, 56 Ridge Rd., Rail Road Flat
— West Point VFW, 202 Spink Rd., West Point
— Mokelumne Hill Town Hall, 8283 Main St., Mokelumne Hill
— Independence Hall, 1445 Blagen Rd., Arnold
— Mountain Christian Fellowship, 3488 E Hwy 4, Murphys
— Murphys Masonic Hall, 384 Church St., Murphys
— Frogeteria At The Fairgrounds, 101 Frogtown Rd., Angels Camp
— Bret Harte Theatre, 323 S Main St., Angels Camp
— Lake Tulloch Bible Church, 3566 Spangler Ln. #3, Copperopolis
— Jenny Lind Fire House, 6501 Jenny Lind Rd., Jenny Lind
— Good Samaritan Community Church, 4684 Baldwin St., Valley Springs