Public's Help Sought To ID Burglary Suspect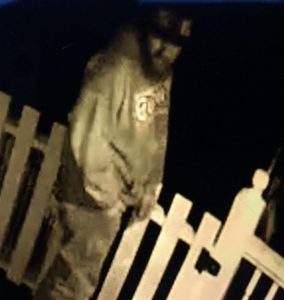 Old Buchanan Mine Road burglary suspect on surveillance Nov 4 2018

View Photos
Sonora, CA — Tuolumne County sheriff's officials are circulating some surveillance system images with the hope that one or more residents will recognize a burglary suspect who targeted a local residence over the weekend.
According to Tuolumne County Sheriff's spokesperson Sgt. Andrea Benson, the person of interest appears to be a white male with a dark-colored beard. She provided three home security images, viewable in the image box slideshow, of a man wearing a baseball cap, hooded sweatshirt and jeans. Sgt. Benson adds that the surveillance footage was recorded in the early hours Sunday at a home located on Old Buchanan Mine Road.
Sgt. Benson further shares that the person badly damaged a shop door when he broke in at the property and that investigators are withholding further details regarding property taken and further specifics, as to not be detrimental to the interview with the suspect once he is identified.
Anyone with possible information about the incident or the suspect is asked to call the Tuolumne County Sheriff's Office at 209 533-5815.