Six People Injured In Burson Crash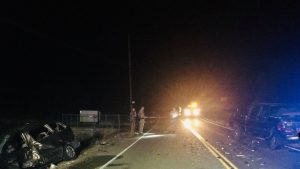 Crash on Burson Road

View Photos
Burson, CA — The CHP reports there were multiple injuries in a crash Saturday evening on Burson Road near Camanche Parkway South.
San Andreas Area CHP Officer Toby Butzler says that 32-year-old Chueyee Yang of Rancho Cordova was driving south on Burson Road when for an unknown reason he tried to turn his vehicle around to go the opposite direction. He was then hit by an oncoming southbound Ford F 250 driven by Ronald Caywood of Burson who tried to swerve away but couldn't avoid Yang's mini-van.
Butzler says, "Mr. Yang sustained pretty major injuries and was flown from the scene for treatment of those injuries. In the mini-van there were also five juvenile passengers ranging from 11 months old to 12 years old. Four of the five did sustain injuries, and they were minor to just a little bit more than minor. I was able to speak to their mother this morning and all five of the children are out of the hospital and now at home with her."
Caywood also suffered minor injuries in the crash, but he declined medical treatment. It happened at around 6:50pm.