Three Arrested In Local Drug Bust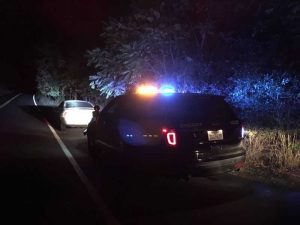 Scene of the drug bust in Sonora

View Photos
Sonora, CA – Spotting a broken license plate light on a vehicle, a Tuolumne County Deputy made a traffic stop that netted three arrests and drugs.
The drug bust happened early Wednesday morning, when after pulling over a silver Ford Mustang on Campo Seco Road in Sonora, an alert deputy spotted drug related items on the floor board of the vehicle.
The deputy conducted a search of the car and the three men inside. It uncovered hypodermic needles, a glass smoking pipe, six grams of heroin and methamphetamine. Taken into custody were the driver, 27-year-old Daniel Sanchez of Tuolumne, and two passengers, 34-year-old James Wood of Sonora and 33-year-old Lawrence Beenblossom of Pittsburg.
Sanchez was booked for possession and transportation of a controlled substance for sale and driving on a suspended license. Beenblossom faces charges of possession of a controlled substance and possession of controlled substance paraphernalia. Wood faces those same charges along with three local warrants for violating his probation on earlier drug charges.