Caltrans Completes $3 Million Highway Renovation Near San Andreas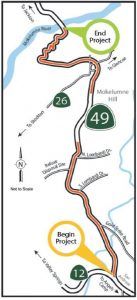 Hwt 49 San Andreas paving project complete Nov 2018

View Photos
San Andreas, CA – A stretch of Highway 49 is ready for its close up, according to Caltrans officials, who announce the completion of a $3 million refurbishing.
Crews recently buffed up a section of road and shoulders in both directions for eight-and-a-half miles between Highway 12 near San Andreas and the Calaveras/Amador County line. The area, well-used for local and visitor travel through Calaveras County, is also known for its hot spots for potential accidents.
In addition to repaving, they also applied a new overlay for pavement preservation to extend the surface life for three to five years, and widened the road striping from four inches to six inches for added visibility.
Officials say the work will enhance roadway travel and safety while decreasing maintenance costs for motorists.