Mother Lode Businesses Alerted To Trickster Writing Bad Check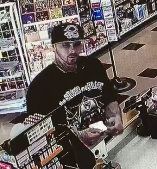 Suspect wanted for allegedly writing fake check
Tuolumne County, CA – The Tuolumne County Sheriff's Office is warning local business owners to beware this Halloween as a trickster is being sought for trying to pass a fake check.
The surveillance video and close up pictures in the image box captured the suspect in action on Tuesday morning attempting to cash what was later to be determined to be a homemade check. Investigators discovered the suspect stole account information to create the bogus check. The clerk asked the man to wait while he contacted a manager to verify the check.  It was during that time that the man high tailed it out of the store.
Even though the suspect did not get away with any money, Sheriff's officials still want to catch the man and are asking the public to take a good look at the video and pictures as his attempt to defraud the store is still a crime. Anyone who may recognize or know the man is asked to call the sheriff's office at 533-5815.