Feed The Bears This Saturday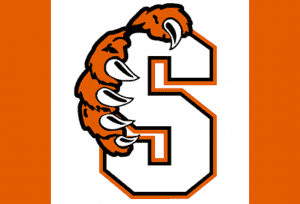 Summerville Bears logo

View Photos
Fifteen years ago, ten community leaders got together to form the Summerville High School Foundation.
Jan Hiebert, Summerville High Foundation's Exectutive Director, was Wednesday's KVML "Newsmaker of the Day".
Back in 2003, Principal Dave Urquhart had just received a check for $100,000 from a local donor, to be used for sports fields at Summerville High School. Urquhart had the foresight to call on various alumni and business leaders to form a non-profit organization and the group is still going strong today. Their mission is to enhance the educational experience for students in SHS high school district in arts, academics and athletics.
Each year since 2005 the Foundation has held an annual fundraiser called, "Feed the Bears". Summerville's mascot is a bear and the school colors are black and orange. Proceeds from this fundraiser are used for Bear Grants for teachers and staff and improvements to school facilities in the areas of arts, academics and athletics.
This year the annual dinner/auction will be held on Saturday November 3rd, starting at 5:00pm at Tuolumne Memorial Hall. The Board of Directors have invited the original nine founding Board Members and Urquhart, to accept the honorary position of Emeritus Board Member and each one of the ten will be honored at the dinner this year with a special presentation.
The Foundation has been selling tickets to "Win A Harley" since June of this year and the raffle drawing will be held at the "Feed the Bears" dinner. The prize is a brand new Harley Davidson Road King model motorcycle. Tickets for the Harley are $100 each with only 400 sold.
Tickets for the dinner are $45 each with a dinner menu of barbecued ribs, brisket, chicken, baked beans, rolls and coleslaw, with homemade brownies and ice cream for dessert. ASB students will be helping serve dinner and the Jazz Choir and Drumming Team will provide entertainment as excitement builds all evening toward the drawing of the winning raffle ticket.
Other activities at the dinner are live and silent auctions and a raffle of several items from local businesses.
Accodring to Hiebert, "We like to say 'Please DO Feed the Bears'"! For more info or tickets visit summervillefoundation.org or call Executive Director, Jan Hiebert at 209.536.9227.
For a list of projects that the Foundation has accomplished over the years, visit summervillefoundation.org.
The "Newsmaker of the Day" is heard every weekday morning at 6:45, 7:45 and 8:45 on AM 1450 and FM 102.7 KVML.