Calaveras Sheriff's Office Awaits New Armored Vehicle On Order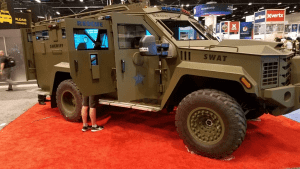 BearCat model similar to the one on order by Calaveras County Sheriff's Office for delivery in the summer of 2019

View Photos
San Andreas, CA — By sometime next summer another Mother Lode sheriff's agency will have a brand new custom armored vehicle to replace its "ugly, old two-wheel drive beast."
That is how Calaveras County Sheriff Rick DiBasilio describes its clunky circa 1980s military surplus Mamba armored personnel carrier. "It is as "just a little bit outdated and antiquated," he dryly adds. Powered by a four-cylinder Toyota diesel engine, he acknowledges the Mamba, which was used in Africa, works pretty well on flat ground but chugs up hills at maybe 25 30 miles per hour on a good day, lacks room to transport sufficient personnel and offers only a back door in or out.
It was back at the end of June when the board of supervisors approved the sheriff's request to purchase a Lenco BearCat that he originally estimated to cost $400,000. Earlier in the year, the plan was to tap a $50,000 donation from the Friends of the Sheriff, use $150,000 in SB 443 funds and request $200,000 from the supervisors out of the General Fund.
However, when the board called for all county agencies to cut their budgets by at least five percent, Sheriff DiBasilio decided to fund the General Fund portion from SB 443 monies as well. It also turned out that the unit, which he ordered in August, wound up costing $340,000. With delivery about 300 days out from the ordering date, he notes that although the payment was made this fiscal year, it will take almost another fiscal year for his office to get the new purchase into actual operation.
Looking For More Utility, Agility  
"As far as the BearCat goes, it is something that has been needed for quite awhile and we had just never been able to really pull the trigger on purchasing it," the sheriff continues. Among the uses, the SWAT team can deploy it for emergency situations and high-profile warrant searches; it can also be used as a mobile operations center, a rescue vehicle and/or an ambulance. Somberly, he adds, "In the event of a school shooting, it would help get children out to safety."
The model on order (similar to the photo in the image box), has a turret, four side doors and a back door for quick egress and ingress, and oversize tires suited for steeper Sierra foothills terrain.
The Tuolumne County Sheriff's Office purchased a somewhat similar vehicle back in 2015, which it uses in-county as well as for assistance calls from neighboring agencies.
A two-door unit described as a MedCat, Tuolumne County's unit was purchased under special circumstances for $280,000 from the Massachusetts-based manufacturer, who displayed it out west as a model and would have had to pay $20,000 just to ship it back. Clarke Broadcasting toured and photographed the vehicle and its features, viewable here.