TuCare Summit Focuses On Taming The Beast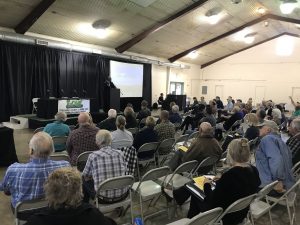 TuCare Natural Resources Summit

View Photos
Sonora, CA — The Tuolumne County Alliance For Resources and the Environment, TuCare, held its annual natural resources summit at the Mother Lode Fairgrounds this morning.
This year's theme, "Taming The Beast," was in reference to the increasing number of mega fires in the Sierra Nevada. Congressman Tom McClintock was the keynote speaker and he gave an update on forest related legislation being debated in Washington, DC. He spoke disappointedly about how his "Resilient Federal Forest Act" passed twice in the US House of Representatives but has failed to gain enough support in the Senate. He laid blame on the cloture rules that require 60 Senate votes to bring forward legislation.
However, he was still optimistic that changes will be on the horizon when it comes to federal forest policies. He specifically praised senior administration officials and the new head of the US Forest Service.
An earlier speaker that was more optimistic about the future of the forest was Barnie Gyant, US Forest Service Regional Deputy. He complimented the Master Stewardship Agreement recently approved by Tuolumne County and the Stanislaus National Forest, and spoke positively about California Climate Initiative funding becoming available in the state. Gyant added that the Forest Service is being proactive in collaborating with local groups and re-examining many past practices and policies put in place 20-30 years ago. He stated, "I'm as hopeful as I've ever been" for change.
Other dignitaries that spoke include Randy Hanvelt, Tuolumne County Supervisor, Steve Brink with the California Forestry Association, Shaun Crook of the California Farm Bureau, Nick Casci of CAL Fire and Julie von Savoye of Cutler-Segerstrom Insurance.
Close to 100 were on hand at the Mother Lode Fairgrounds for the summit.
On a related note, there were multiple CHP Officers present both inside the event and in the parking lot out of concerns that protesters could disrupt the forum. A group had set up signs across the street, apparently in response to Congressman McClintock, reading, "Acknowledge Climate Change," Stop Cutting Forest Service Budgets" and "Put A Price On Carbon." No one disrupted today's event and everything went smoothly.