Sonora High Football Seeking Mother Lode League Title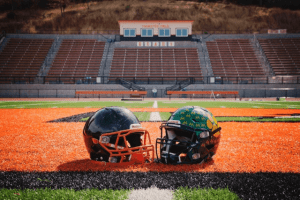 Sonora Versus Summerville

View Photos
Sonora, CA — The final week of the high school football season features a matchup between county rivals the Sonora Wildcats and the Summerville Bears.
The game gets underway at seven o'clock from Sonora High's Dunlavy Field. You can hear it live on Star 92.7 and 93.5 KKBN. It will also be streamed on myMotherLode.com. Sonora High enters the game with an overall record of 5-4 and 4-0 against Mother Lode League opponents. Summerville High is 3-6 overall and 1-3 in league competition. A win by the Wildcats would clinch the Mother Lode League title outright.
In other action tonight, Bret Harte High School (2-7 overall and 0-4 in league) plays host to Calaveras High (5-4 overall and 3-1 in league). The game is referred to as the "Battle For the Bell." The winning team will keep the ceremonial bell up for grabs at the their school for the next year.
Calaveras High is the only 3-1 team, so a loss by Sonora High and win by Calaveras would put the two schools in a tie at the top of the standings. Sonora High, though, did defeat Calaveras High on October 19, 27-7.