Governor To Continue Climate Change Cause Once Out Of Office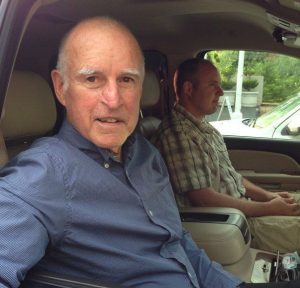 Governor Brown at the Mother Lode Fair: Photo taken by: Tracey Petersen

View Photos
Sacramento, CA — Governor Jerry Brown will take the helm of a group that oversees the Doomsday Clock.
The Bulletin of the Atomic Scientists, a group that measures man-made threats to human existence, has named Brown its Executive Chairman. One of the group's duties is to manage the Doomsday Clock, which is a visual representation of how close the Bulletin believes the world is to catastrophe brought on by nuclear weapons, climate change and new technologies.
The group made the announcement today as the governor will be leaving office in January. Brown's leadership of the bulletin, according to the group, will be to generate information "to reduce man-made existential threats."
In a statement provided by the group, Brown warns that the planet is in one of its most dangerous eras since the atomic bomb was dropped.