Calaveras Supervisors Support Wilseyville Biomass Project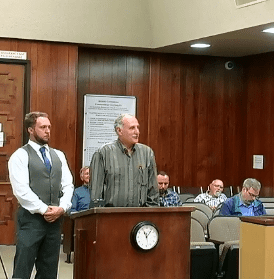 Steve Wilensky speaks to Supervisors with Robert Zellers to his left

View Photos
San Andreas, CA — An item initially placed on the consent agenda, signaling it was expected to be non-controversial, spurred an hour and 15 minute conversation at today's Calaveras County Board of Supervisors meeting.
The non-profit group Calaveras Healthy Impact Product Solutions (CHIPS) performs work like forest and meadow restoration, watershed improvements, and fuel breaks. It was founded 14 years ago by its Executive Director, Steve Wilensky, who is a former Calaveras Supervisor. It has a stated goal of reducing fire fuels, promoting healthy forests and supporting a sustainable local economy.
The group has been working for many years to turn an abandoned lumber mill in Wilseyville into a three megawatt biomass power plant. The property was purchased by CHIPS from the Calaveras County Water District. Back in 2015 CHIPS received an administrative use permit from the county for the biomass project and negotiated a 20-year power purchase agreement with PG&E for the facility. Two years later, in 2017, a mitigated negative declaration environmental document was certified by county staff. The plant is anticipated to directly create 25 jobs, in addition to others related to field operations and trucking.
CHIPS is applying for funding, around $1.6-million, through the US Department of Commerce's Economic Development Assistance Program to make improvements at the site, and make it operational. However, a grant requirement is to receive a resolution of support from the county supervisors. There is no financial backing required by the county, but just a statement of praise.
Supervisor Dennis Mills asked that the item be pulled from the consent calendar because he had a variety of questions. Supervisor Mike Oliveira added that he has received multiple phone calls from residents who have voiced some concerns.
During a public comment period, a majority of people offered praise for the project.
Al Segalla, with the Calaveras Taxpayers Association, however, argued that more information should be presented before endorsing it, and also said he preferred that a member of the timber industry be on hand to weigh in.
Supervisor Jack Garamendi countered later, speaking support for the project, saying, "This, in my opinion, is a no brainer….We're either open for business in Calaveras County, or we're not open for business in Calaveras County. This is sending a message."
After hearing from the CHIPS organization, and having several questions answered, the supervisors voted 5-0 to approve the resolution of support.