Firefighters Save A Sonora Business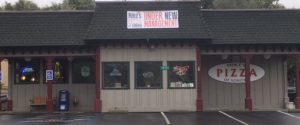 Mike's Pizza of Sonora

View Photos
East Sonora, CA – CAL Fire reports that a fire alarm sounding in the early hours of the morning alerted the Tuolumne County Fire Department Mono Village Station to a blaze at a popular East Sonora restaurant.
Firefighters arrived just after 1 a.m. to find smoke billowing out of Mike's Pizza of Sonora located at 14721 Mono Way, near the Mono Village Center.  CAL Fire details that firefighters were able to force their way into building and they spotted a small fire burning in the kitchen. Crews were able to extinguish the flames before they had a chance to spread into the dining area of the restaurant.
While CAL Fire states that investigators are still actively trying to determine what sparked the fire and it remains under investigation, Clarke Broadcasting contacted the eatery and a worker described the blaze as a "towel fire." Although a faint smell of smoke remains, she added that the restaurant is open for business.