Sonora Initially Okays Medical Marijuana Dispensary Plan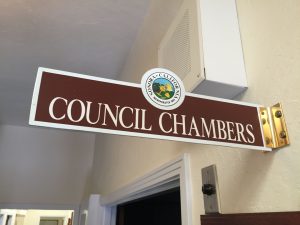 Sonora City Council Chambers

View Photos
Sonora, CA – A medical marijuana dispensary within the city limits of Sonora is another step closer to receiving council approval.
Recounting yesterday's vote, City Manager Tim Miller says that the development plan, submitted by Jeff Muzio of Hazy Bulldog Farms, LLC for a location at 1243 Mono Way, west of the Sanguinetti Road, generated comments from three community members who voiced questions and/or concerns after which the board voted 5-0 in favor of moving forward.
"The next step in the process since it is an ordinance…is for it to come back at the Nov. 5 meeting for a second reading and potential adoption," Miller notes.
Under Muzio's submitted plan, his company would pay the city a "public benefit" payment each month to offset or mitigate any potential project impacts that would be no less than $10,000 per month, or five percent of the gross monthly receipts. The project would additionally be subject to security protocols, including surveillance cameras and an alarm system. Additionally, the project has odor control and insurance requirements along with a waste management plan.
Another Application In The Pipeline
Muzio's application is one of two that the city accepted under a pilot program. Miller says the other, which is still under staff review, involves a South Washington Street location near Highway 108. Ahead of the submissions, the council considered a task force's recommendations that would otherwise permit manufacturing as well as testing along with medical dispensary. However, he emphasizes, "The only thing that at this point that the city is considering is medical dispensary…so I would say that the city is taking a very cautious, conservative, and thoughtful approach to the process and whether they allow any other types of business in the future, we will just have to wait to see."
Currently, there are two medical marijuana dispensaries in Calaveras County and ordinances against them in Tuolumne County, Sonora and Angels Camp. Currently, the Calaveras dispensaries can deliver within the county.
Miller acknowledges regulations are now pending at the state level what would allow licensed businesses to deliver throughout the state, irrespective of local rules, adding that the city will be monitoring and considering appropriate steps if the state enacts those regulations.