Calaveras Humane Society Targeted By Burglars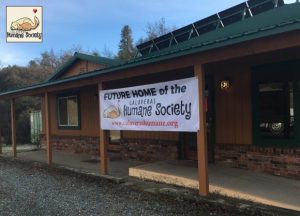 New Calaveras Humane Society buidling

View Photos
Angels Camp, CA – A tip about a suspicious vehicle parked outside the Calaveras Humane Society building that is being renovated on Highway 49 outside Angels Camp resulted in the capture of two suspected thieves – one was even wearing an ankle monitor.
When a Calaveras County Sheriff's Deputy arrived on scene Sunday around 7:30 p.m. he saw a male subject trying to break a lock on the container. The deputy turned on the patrol lights and the man, later identified as 42-year old Eric Hendryx from Oakland, took off running. The deputy caught up with Hendryx down an embankment lying tangled in some barbed wire on the ground. He was found to be wearing an ankle monitor as he was out on bail from Alameda County. Another suspect, 44-year-old Jason Hackmeier of Valley Springs, was discovered near the vehicle and also taken into custody.
A sweep of the property, found the locks on two storage containers had been drilled and some wire had been stripped from the crawl space beneath the building. Sheriff's officials estimate the damage at about $1500. Additionally, deputies turned up burglary tools, narcotics and paraphernalia in the vehicle.
Both suspects face felony vandalism, attempted burglary and drug charges. Their bail was set at $45,000 each.