Calaveras Sheriff, Behavioral Health Offices Earn International Honors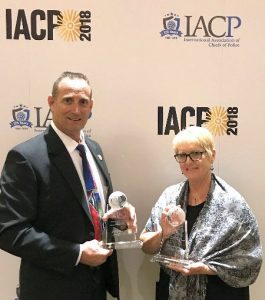 Calaveras County Sheriff Rick DiBasilio and Barbara Hanley with the county's two IACP Awards 2018

View Photos
San Andreas, CA – For the first time ever, the International Association of the Chiefs of Police (IACP) has bestowed awards on two Calaveras County agencies.
Sheriff Rick DiBasilio and Brenda Hanley, who is a Calaveras County Behavioral Health liaison, were among the local contingent that traveled to Orlando last week for IACP's 2018 Conference and Exposition, where they picked up their awards in person. The annual event draws thousands of attendees. Considered to be among the largest law enforcement gatherings of its kind, it awards honors in 20 or more categories.
According to the IACP, its Chief David Cameron Leadership in Environmental Crimes focuses on awarding excellence in enforcement and education, recognizing agencies and multi-agency collaborations. The Calaveras County Sheriff's Office earned the honor for creating a task force to investigate and prosecute environmental crimes committed by marijuana cultivators. Specifically, IACP called attention to "Operation Terminus," a six-month investigation conducted by the sheriff's office with state and federal partners. It resulted in 35 arrests, seizures of cash and firearms, the eradication of 28,650 marijuana plants, and the uncovering and reporting of numerous environmental and other violations.
The sheriff's office and Calaveras County Health and Human Services also received IACP's Leadership in Human and Civil Rights Award, recognizing agencies and individuals who demonstrate leadership in protecting fundamental rights. Hanley accepted the award on behalf of the multi-agency collaborative partnership that addresses Calaveras County's law enforcement response to incidents involving people with mental illness.