TCSO Coordinating Winter Coat Giveaway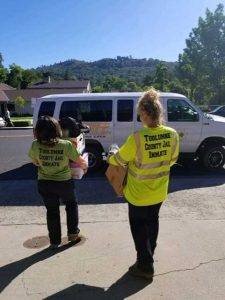 TCSO Inmates Help With Coat Giveaway

View Photos
Sonora, CA — Children in the community will be able to obtain gently used coats and sweatshirts this weekend ahead of the cold winter season.
The Tuolumne County Sheriff's Office will be handing out the clothing this Sunday from 10am-3pm at 13645 Tuolumne Road. Tuolumne County schools assisted the effort by providing unclaimed coats and sweatshirts that were later separated and cleaned by the female jail inmate work crew. The inmates also made wooden pumpkins for the kids to paint at the event.
Sunday's event runs from 10am-3pm.