Local Football Teams Have High Scoring Night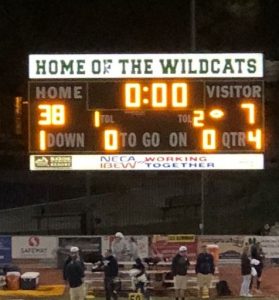 Sonora Wildcats Football

View Photos
Sonora, CA — Summerville High School had a big win on senior night, and Sonora High had a convincing win during its homecoming.
Summerville Shuts Out Bret Harte
Written by: Brandon Steele
Summerville was dominant on senior night, defeating the Bret Harte Bullfrogs 34-0.
The first half was perfect for the Bears, scoring on their first three possessions. Sophomore Quaterback Jayden Brochnii connected with Justin Roberts for a 41 yard touchdown. It was the longest play in Brochnii's young high school career.
The offense was in high gear the whole game. Nick Veach rushed for over 100 yards and found the end zone. The Bears offensive line was able to create the holes needed to find consistent success.
Moreover, Summerville's defense was stout. There were a total of six sacks on Bret Harte's QB Ryan Craft. Markus Warnock was credited with two of them and a total of eight tackles, with a few of those for a loss.
Summerville played their final home game, ending on a high note, and now will travel to Amador sitting at 3-5.
Sonora Wins Big Against Amador
Written by Mark Ferreira.
On a crisp Fall homecoming night the Sonora Wildcats won big at Dunlavy Field 38-7'over the Amador Thundering Herd.
Jake Gookin would continue where he left off last week and opened the scoring with a 21 yard run, and Nicholas Crockett would add two more on the point after. Sonora took an early 8-0 lead. Bryan Wynne would add three more points on a 23 yard field goal and the first quarter would end 11-0 in favor of the Cats.
Sonora would dominate the second quarter starting with a long sustained drive ending in a Gookin one yard run, and Wynne would add the extra point and it was 18-0 Sonora. On Amador's next offense series, Bryan Wynne would grab an interception and return it 21 yards to add to his point total on the night.  C.J. Castleman would end the scoring in the second quarter capping another sustained Sonora drive and score from three yards out, and Wynne would add another point after and the Wildcats would take a demanding 31-0 lead into halftime of Homecoming. Huge kudos to the Wildcat defense who overcame back to back offsides calls to give Amador a crucial 4th and 1 deep in Wildcat territory and then stuff the run attempt to take the ball back on downs.
The third quarter would see both offenses stall and both defenses tighten up as no one was able to punch the ball in for a score.
At the start of the fourth quarter Amador would rush from 2 yards out and add an extra point to cut the lead 31-7 in favor of Sonora. On what was possibly the play of the year, Nicholas Crockett grabbed a Jake Gookin pass on the far side lines and would cut all the way across the field, breaking a couple tackles, see one huge train wreck of a block, and would take it 83 yards and win the foot race for the score. The final score was Sonora 38, Amador 7.
Sonora travels to Calaveras High next week in a battle of unbeaten Mother Lode League teams. Last night Calaveras defeated Argonaut 26-6.