Update: Wildcat Fire Burning Off Highway 108 East Of Knights Ferry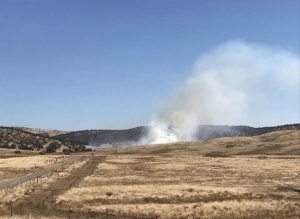 CAL Fire image of Wildcat Fire Oct 12 2018 off Hwy 108 east of Knights Ferry

View Photos
Update at 3:40pm: CAL Fire officials say the Wildcat Fire has been 100 percent contained at just under 27 acres. Expect mop-up operations to continue for awhile yet.
Many resources have already been called from the incident, which broke out on the south side of Highway 108 near Tulloch road, east of Knights Ferry, in the noon hour. It was dubbed the Wildcat Fire due to its proximity to Wildcat Creek, according to CAL Fire officials. The cause is still being investigated.
Update at 1:48pm: CAL Fire officials are reporting good progress is being made on the Wildcat Fire, which is now reported as being 50 percent contained at 28 acres.
Original Post at 1:35pm: Sonora, CA — A vegetation fire that broke out in the noon hour burning near the area of Highway 108 and Tulloch Road has been named the Wildcat Fire.
According to CAL Fire spokesperson Emily Kilgore, it is about 20 acres in size and the forward rate of progress has been stopped. While air resources were among the responders, they are now back at Columbia Airport. Expect plenty of ground unit activity over the next few hours as firefighters continue building containment lines and do mop-up. The cause is still under investigation.
While the incident is not currently impacting traffic, officials request motorists to drive with extra caution.