Fugitive Caught During Traffic Stop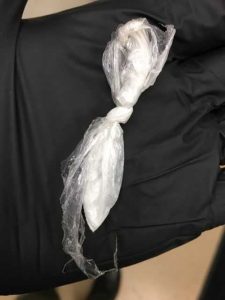 Drugs seized

View Photos
Jamestown, CA — A driver's failure to use his blinker signaled a Tuolumne County Sheriff's Deputy to pull over a vehicle that resulted in a drug bust and arrest of a wanted man.
The incident happened on Chicken Ranch Road in Jamestown just after 2 a.m. on Monday. In an attempt to avoid the deputy, the driver turned down a private driveway, according to sheriff's officials. A records check was run on the two men inside the vehicle. It revealed that the driver 38-year-old Adam Hector of Oakdale had two confirmed misdemeanor warrants and two confirmed felony warrant for his arrest. It also showed he was driving on a suspended license.
Hector was taken into custody without incident for his prior warrants. While being booked into the Tuolumne County Jail, he was searched and .19 grams of methamphetamine were found on him. That added fresh drug charges that included possession and bringing a controlled substance into a jail. Hector's bail was set at $25,000.