Sonora City Council To Decide Fate Of Marijuana Dispensary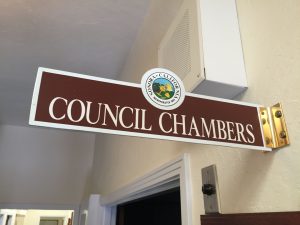 Sonora City Council Chambers

View Photos
Sonora, CA — After receiving a 3-0 endorsement by the Sonora Planning Commission, a proposal to open a medical marijuana dispensary on Mono Way now heads to the city council.
There were two separate items reviewed by the planning commission at this week's meeting…a use permit and a development agreement. While the use permit is at the discretion of the planning commission, the development agreement requires council approval. The commission's decision was to approve the use permit and recommend approval of the development agreement. A stipulation of the use permit is that the parking situation be reviewed after six months as there were community members that raised concerns that the business will create parking challenges nearby.
The dispensary is proposed to be located at 1243 Mono Way.
Meanwhile, the proposed three year development agreement stipulates that the applicant pay the city a "public benefit" fee of $10,000 per month, or 5-percent of gross monthly receipts. The applicant, Jeff Muzio of Hazy Bulldog Farms LLC., must also install things such as security cameras and an alarm system. There would also be odor control, insurance and waste management requirements.
Now that the proposal has cleared the planning commission, Sonora City Administrator Tim Miller confirms that the development agreement aspect will go before the council this coming Monday, October 15. The meeting will start at 5pm at Sonora City Hall.