$15-Million Water Project Near Completion East of Knights Ferry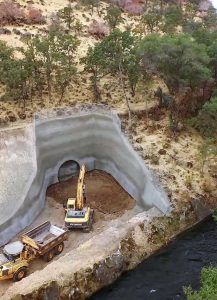 Construction of new water tunnel near Knights Ferry

View Photos
Knights Ferry, CA — A major water project, which has been in development for over a decade, will be completed in the coming months.
The Oakdale Irrigation District is replacing a problematic section of a 100-year-old canal with a new water tunnel. A one-mile stretch along a steep Stanislaus River canyon could be wiped out in the event of a rockslide. Another concern is that it has been creeping downhill over time toward the river. If damage occurred, it could choke off water supply, and impact 60-percent of the customers in the Oakdale community.
In 2007 Condor Earth of Sonora began the initial tunnel design and collected geographical data. Environmental permits were secured in 2016 and the primary focus was on potential impacts to the California tiger salamander and the vernal pool crustacean habitat. Later in 2016, the construction contract for the 5,948 ft. tunnel was awarded to Drill Tech Drilling and Shoring of Antioch. The $15-million project is currently on pace to be completed by March.
Oakdale Irrigation District General Manager Steve Knell reports that all of the funding for the project is coming from cash reserves built up over recent years thanks to the strategic sale of surplus water to other irrigation districts.
"All the infrastructure improvements at OID have been, and continue to be, paid for from the sale of surplus water," adds Knell. "To date, 98-percent of all water sale revenues have been spent on projects to rebuild and modernize our irrigation district-at no cost to our ratepayers. That's remarkable and a testament to the vision of the OID Board in the late 1990's to develop such a program. It has served the district well."
More than 73,000 cubic yards of material, which the district says primarily consisted of volcanic rock over a million years old, was removed and hauled to a site a few miles to the west near Lovers' Leap.