Sonora Homecoming Parade To Delay Traffic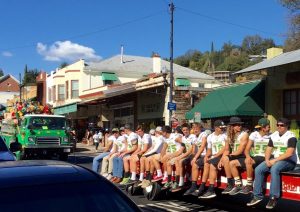 Sonora Football Team in the Sonora High Homecoming Parade 2015

View Photos
Sonora, CA – Sonora High School will celebrate its homecoming by parading down the streets of downtown and that means motorists could face delays.
The school's homecoming parade is Friday (Oct. 12th). It will run along Washington Street/Highway 49 forcing the closure of all traffic between Snell and Church streets from 2:15 p.m. to 3 pm. School Street will also be shut down around 1:30 p.m. to allow for staging of the parade. There will be no parking on Green Street from Yaney Street to Stockton Road during the parade with signs posted.
The celebration ends with a performance by the Golden Regiment Band at Courthouse Park, which will last about 15 minutes. During that time, Green Street will be closed between Bradford and Yaney streets. These areas will be posted with "No Parking" signs.
Sonora Police released this route for the parade: The parade will leave Sonora High School and enter Snell Street from School Street, then travel south on Snell Street and onto Washington Street. From Washington Street, it will then turn right onto Stockton Road, right again onto South Green Street, and end at Courthouse Park.
Those not planning to take part in the festivities may want to use alternate routes as there will be slow and congested travel in the downtown area before, during, and after the parade.